Widow of a Living Man.
For this superb track (my favourite) from "The Will to Live", you have to use an acoustic guitar...
Ben Harper : Sometimes I compose some songs which don't seem be for me, but it's good to forces himself to do it or that someone encourages you to do it because it allows you to make progress. Widow of a living man is one of this. Once finished, I said me : No, I'll send this song to Emmylou Harris orDolly Parton; to a woman. I can't sing that. But my friends (notably J-P Plunier) said me: You have to do it; it's strong as well as it comes from a man! I said me that they had right and then I thought about beyond this; it isn't only the point of view of the woman, but too the point of view of his child, who hear his mother crying and confiding in his own mother. It's tooo the point of view of the man who treats badly his wife and who feels very guilty. It's the first time that I deal with a song from so much different angles and I'm proud of this. I managed to express myself like a woman; a wager! The fact to have been brought up by my mother and my grandmother has contributed undoubtedly to develop in me a feminine sensibility. It's an attitude that would be natural for each of us. How do you want to understand a woman if during your life, you never try to take his place? How understand the bitterness or the sadness of a woman who has been hit by her husband, if you never put yourself in somebody place, who knew a such situation? It's too an artistic approach. To write according to a more feminine perspective and in which women can find their way about is a fascinating exercice . Because, in this conditions, it's necessary to stay humble, to respect the point of view of women without offending them.
I offer you the tab in two formats : a picture and with guitar-pro ( for the ones who don't know guitar-pro : click here for a trial version ).
The guitar is tuned one tone lower ( D, G, C, F, A, D ). The tempo is 110.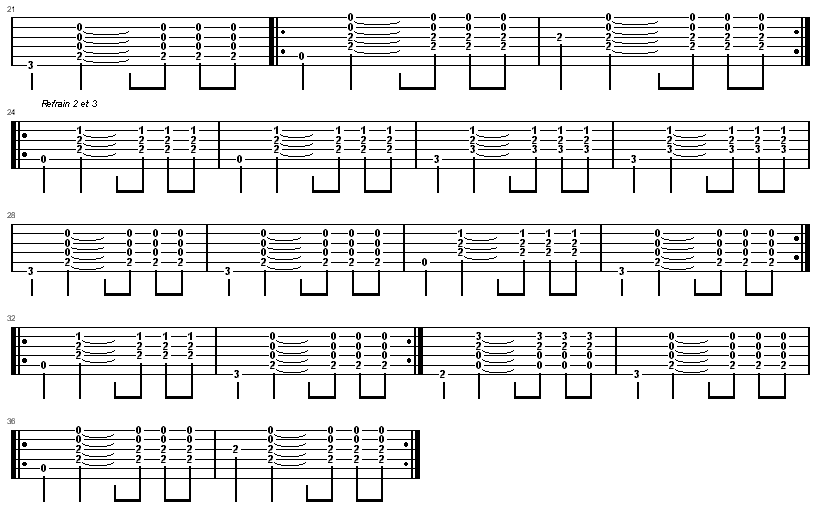 With guitar-pro : Widow of a Living Man (13 Ko).
Lyrics :
Mama why does he treat me me so cold
why do I feel so old
how long has he treated me unkind
or have I always been so blind
I'm the widow of a living man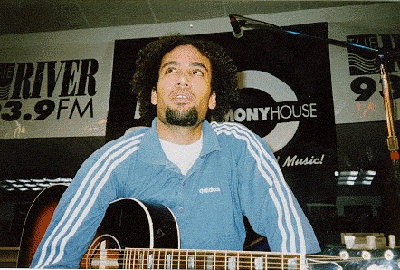 Why can't the times stay the same
now I am begging to change
what about all the plans we made
now I am so afraid
I'm the widow of a living man
Why does he hurt me so
I'm gonna need someplace to go
he's no longer some kind woman'son
mama I think that I had better run
I'm the widow of a living man