I Want To Be Ready.
For this track from "The Will to live", you have to use an electric guitar with distorsion...
Ben Harper : "This song came to me in one breath. The sentences like "I want to be ready to put on my long white robe", come from th old Delta Blues and from the Gospel. This title comes directly from this tradition. It talks about the redemption to win a better life after the death. I don't say that I'm ready but I want to be. I know that life is a little part of THE Life. The shade of meaning is here. It's fragile, but it's here. All is a question of wisdom faced with the doubt. I use too the ideas from the Funk, as for the bass line doubled by the Moog in "I want to be ready". "
Ben Harper : " It isn't a song about religion, but rather about the spiritual freedom, how our life is directly connected to what happens beyond life, because religion often is an insult to God. The spirit is an accomplishment of the man whereas the religion divides the humanity, and I can't support this."
I offer you the tab in two formats : a picture and with guitar-pro ( for the ones who don't know guitar-pro : click here for a trial version ).
The guitar is tuned one tone lower ( D, G, C, F, A, D ). The tempo is 70.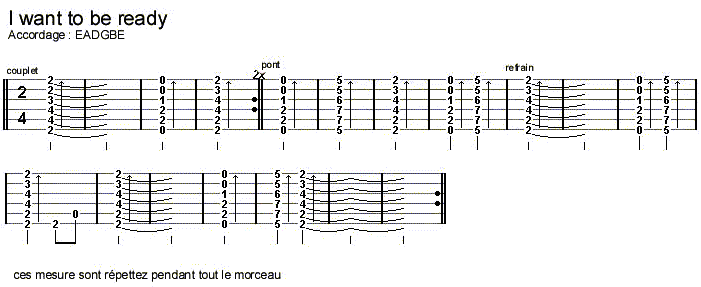 With guitar-pro : I want to be ready ( 3 Ko).
Lyrics :
How I am strong
is to know what makes me weak
how I am found
is to know just whom I seek
the gift of a blessing
the burden of a sin
turn to him
I want to be ready
ready to put on
my long white robe
Nailed accross
from hand to hand
for the sin
of woman and man
all upon his earth
is all within his plan
and I know this shall be
my journey home
I want to be ready
ready to put on
my long white robe
Covet no silver
covet no gold
reach your empty
hands for him to hold
up in his kingdom
glory shall be proclaimed
sing this song
and praise his name