Glory and Consequence.
It's a rythmic model of funk.
We have here a classic rythmic of funk.
Ben Harper : A priori, I don't want taht an electric guitar play a part but JP Plunier had brought his guitar in the recording studio, a Fender Stratocaster 1957 whose he played whan we made a break during the recordings, Glory and consequence was already recorded, there wasn't any electric guitar. He said me : - Why don't you try to add a little of electric guitar over? - NO WAY! - Let's try! - No - Do it for me, Try! I pluged it in an old Fender Twin 58 amp with original speakers . They rewinded the cassette and I played over from the beginning toi the end in an only capture, I unpluged it and that's all. It was funny to see what could give a solo on a Stratocaster made by someone who never played it. It was almost the sphere of experimental. Anyway a solo it's that : nothing prepared, all with instinct. I don't understand those who write their solos in advance. The one I played is coming like that, in one breath.
JP Plunier : We were in studio, we were hearing to the track ("Glory and consequence") and I was talking him, that it'll be great, it'll be a sheer madness but a hell of a lot rawer. The lights were very low and I lived at two minutes from the studio. I called the assistant in order to she brought her car and while Ben was making a capture, I went home and I took the guitar, which was ready, I brought it in the studio. He didn't realize that I was gone two minutes and he doesn't still know that. I said him, "so, try this-one". In fact, il adored! He did it in one capture, it was really spontaneous. It seems like a guitarist of 15 years who plays in his garage with his friends. It's that I found mortal. The rest of the band said "but no, it isn't enough worked" whereas in my opinion, it's that the charm of the thing. The other electric parts had been made on Weissenborn, recorded and mixed from three sources; a clean sound directly to the mixing desk, pluged on an Groove Tube Solo 150 Watt amp with a Marshall 4x10 speaker installed in an other room and rerecorded by a microphone put in front of the instrument. It's too the configuration that I use on live, an acoustic sound and an electric sound. Original tracks : clean track (on the left): Guild 12-strings. Rytmics tracks : acoustic Gibson LG-2 . The sound comes through an Expandora, an Ibanez Tube Screamer (TS-80A), a Sunrise 12 Db Boost and a Groove Tube Solo 150 Watt amp with a Marshall 4x10 speaker.
I offer you the tab in two formats : a picture and with guitar-pro ( for the ones who don't know guitar-pro : click here for a trial version ).
The guitar is tuned one tone lower ( D, G, C, F, A, D ). The tempo is 110.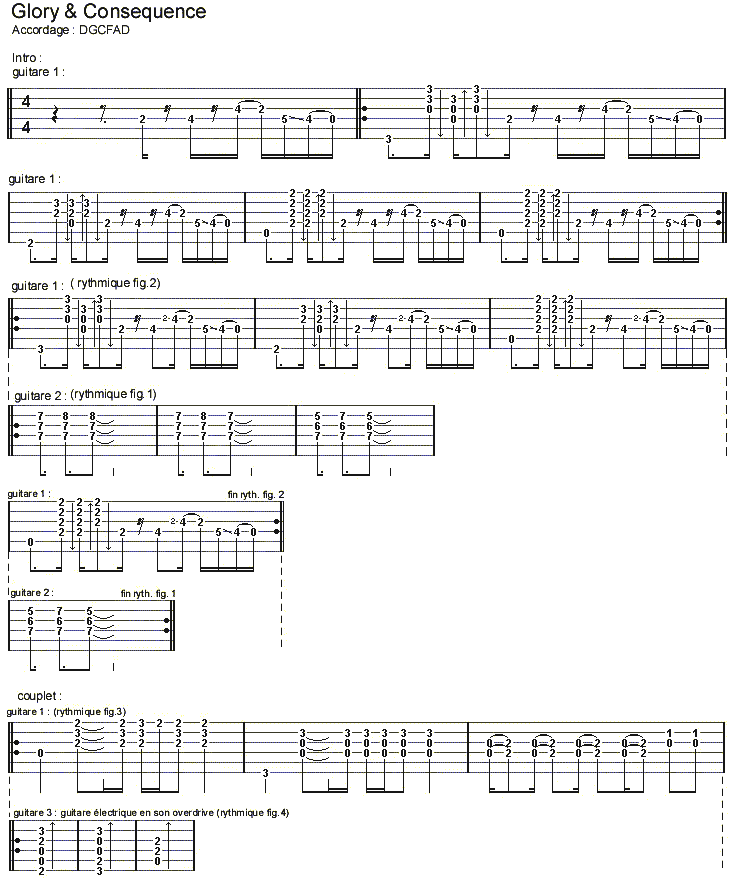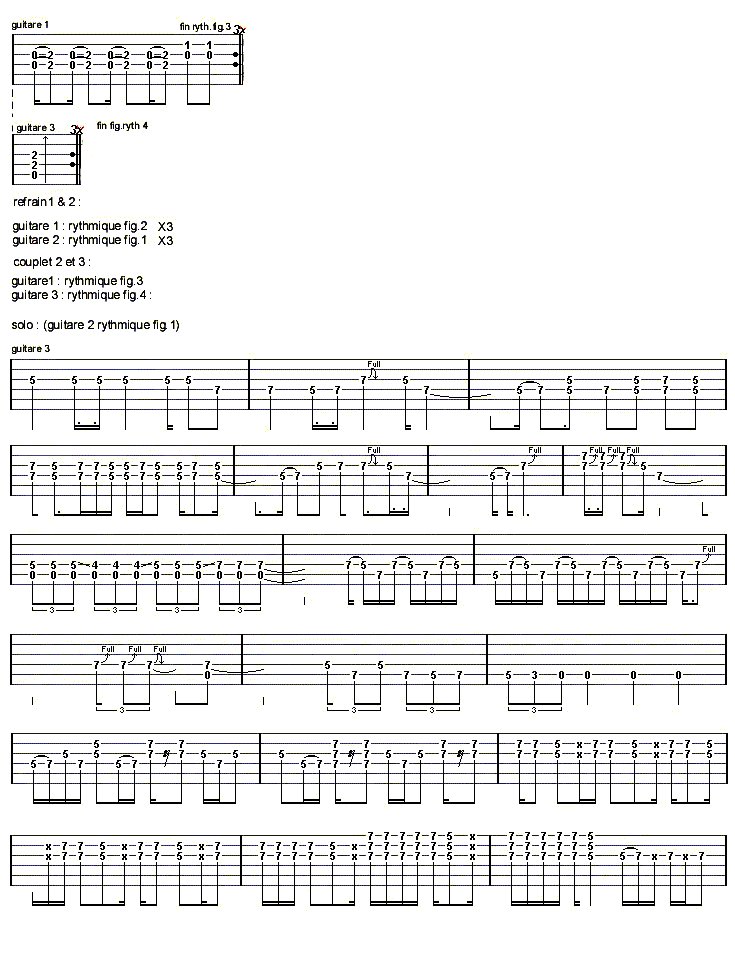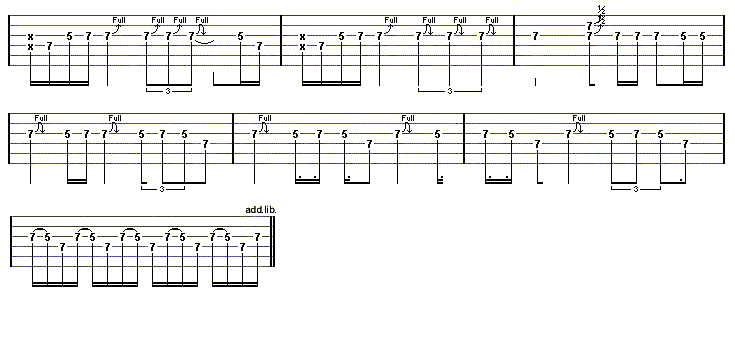 With guitar-pro : Glory and consequence (4 Ko).
Lyrics :
I'm more afraid of living
than I am scared to die
I'm more afraid of falling
than I am of flying high
Every moral has a story
every story has an end
every battle has its glory
and its consequence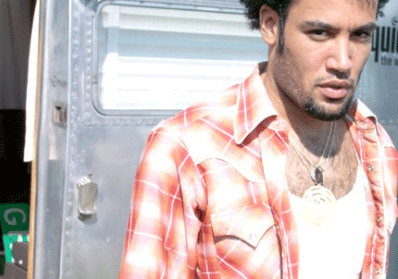 I'm morre afraid of loving
than I am of being scorned
but I will keep on trying
though I have been forewarned
Every moral has a story
every story has an end
every battle has its glory
and its consequence
I would rather me be lonely
and you have someone to hold
I'm not as scared of dying
Every moral has a story
every story has an end
every battle has its glory
and its consequence