Whipping Boy.
For this track, you have to use an acoustic guitar...
I offer you the tab in two formats : a picture and with guitar-pro ( for the ones who don't know guitar-pro : click here for a trial version ).
The guitar is tuned in C-open ( C, G, C, C, G , C). The tempo is 66.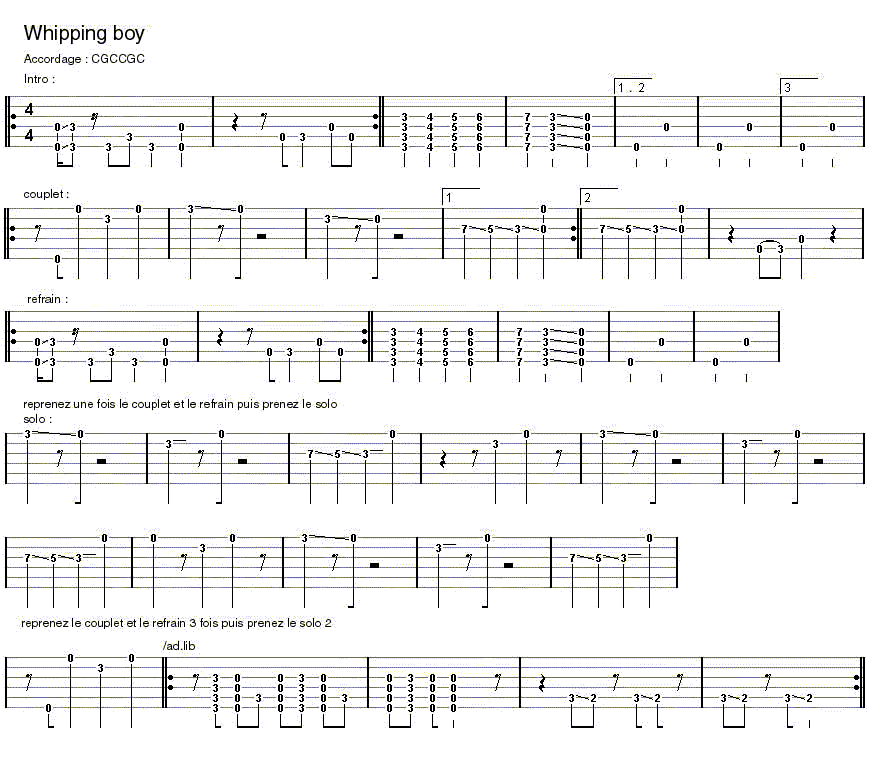 The clip : Whippin' Boy (8222 Ko).
With guitar-pro : Whipping Boy (3 Ko)
Lyrics :
Well you can need me
Well I want you to
And you can feed me
How I like that too
But don't you lead me I won't follow you
Listen here I don't fear I don't want to be your
Whipping boy
You can tease me
How I want you to
And you can squeeze me
Baby I like that too
But don't you lead me I won't follow you
Listen here I don't fear I don't want to be your
Whipping boy
You can hold me
Baby I want you to
And you can scold me
Yes I like that too
But don't you lead me won't follow you
Listen here I don't fear I don't want to be your
Whipping boy
Well you can need me
Well I want you to
And you can feed me
Baby I like that too
But don't you lead me I won't follow you
Listen here I don't fear I don't want to be your
Whipping boy