Give A Man a Home.
A track from "Fight for your mind" not very difficult to play.
I offer you the tab in two formats : a picture and with guitar-pro ( for the ones who don't know guitar-pro : click here for a trial version ).
The guitar is tuned in C-open (C, G, C, G, C, E). The tempo is 65.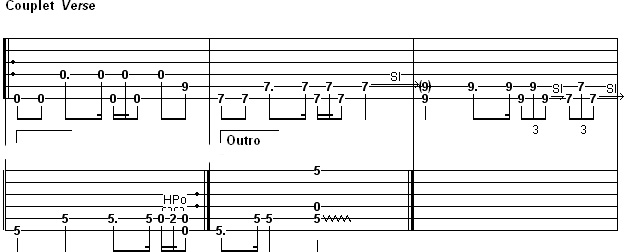 With guitar-pro : Give A Man Home. (4 Ko)
Lyrics :
Have you ever lost your way
have you ever feared another day
have you ever misplaced your mind
watching this world leave you behind
won't you
won't you give
won't you give a man
give a man a home
have you ever worn thin
have you ever never known where to begin
have you ever lost your belief
watching your faith turn to grief
won't you
won't you give
won't you give a man
give a man a home
in a world that is uinwhole
you have got to fight to keep your soul
some would rather give than receive
some would rather give up before
they believe
won't you
won't you give
won't you give a man
give a man a home