Less.
For this track from the last album, you have to use an electric guitar with distorsion...
Ben sings "You'd shake hands with Allah" instead of "You'd shake hands with Jesus" at the time of the 11 april 2000 at "la Maison Des Sports de Clermont-Ferrand, France" and at the time of 18 april 2000 at "Palais Omnisports de Paris Bercy, France" concerts.
Ben Harper plays on a Dan electro lap-steel.
Ben Harper : "This one I bring it with me everywhere, it has a very long sleeve, very cool. I used a James Demeter ampli. A TGA-2/100 which has three channels. One for clean sounds, one for a medium distortion and the third one is simply monstrous. I have also used quite a lot an Ibanez Tube Screamer TS 808."
I offer you the tab in one format : a picture , picture extract from the site SWER , whose webmaster is emmanuel rivet, excellent site...(see too links).
The guitar is tuned in E-open ( E, B, E, G#, B, E ) .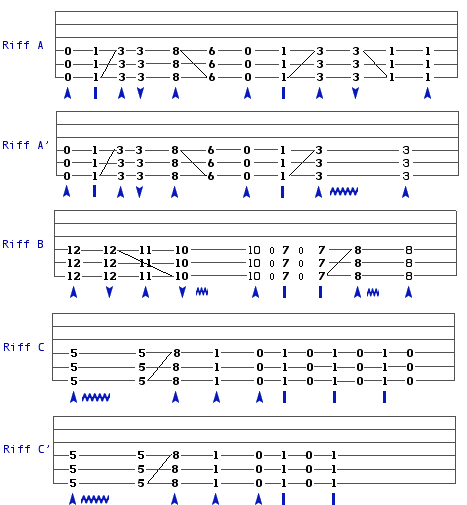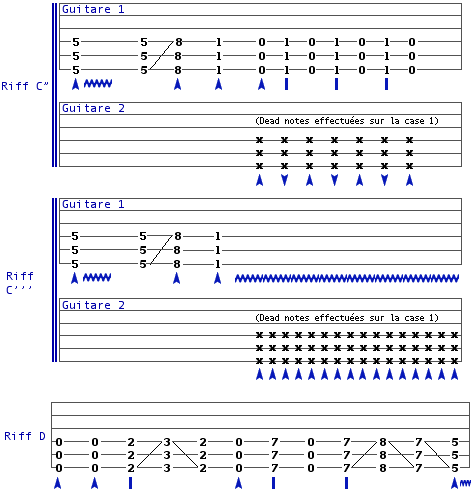 The structure of the track is : Riff A (9 times), Riff A ', Riff B (5 times), Riff C, Riff C ', Riff A (7 times), Riff A ', Riff B (5 times), Riff C '' (2 times), Riff C ''', Riff D.
Lyrics :
I could give you more
But you still wouldn't be happy
I could give all you need
But you still wouldn't be satisfied
I could give 'til I will pour
Now what good would that be?
You'd shake hands with Jesus
And you still would not believe
If you're happy with nothing you'll be so very happy with me
The less you expect the more you'll be please
I could change your mind
But what would you really be thinking
I'll show you a sign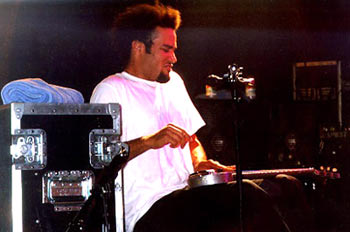 But you just pass it on by
I could hold your hand
But then we'll both be sinking
The problem with the world is everyone's not just like you
If you're happy with nothing you'll be so very happy with me
The less you expect the more you'll be please
The more you'll be pleased
If you're happy with nothing you'll be so very happy with me
If you're happy with nothing you'll be so very happy with me
If you're happy with nothing you'll be so very happy with me ...
So happy with nothing, so happy with me