Musicians : Nick Rich
Finally the last NICK RICH for the drums' techniques and human beat box.
He is on the band for 4 years and through sheer force of hearing him to do the beat box, Ben, composed Steal my Kisses.
According to him for these noises " It takes place between the chest and the lips"... and in spite of the appearance of a smaller function it's a full-time job for him.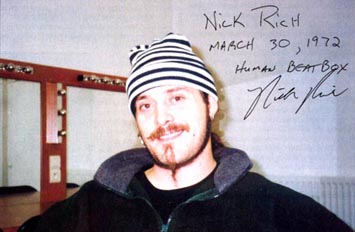 Here is the interview of Nick done in 2000 by Sandra Salazar for Guitar Collector's :
Sandra Salazar: How did you became human beat box on Steal my kisses?
NICK RICH: I know the crew since four years ago and as I do the beat box all the time, one year ago, they decided to write a song around that. One day, in the bus, Ben had an idea. Ben, Juan (Nelson) and I, we began to write the song and that's all!
Sandra Salazar: Did you earn money for this song?
NICK RICH: No, these stuff are very new for me. But I'm happy to do it, I like seeing that it pleases people, that they enjoy.
Sandra Salazar: How did you do these noises, concretely?
NICK RICH: That takes place between the breast and the lips. When I was twelve years old, I listened to a lot of rap, Run DMC, Fatboys, Udini and others like that. It's a thing that I liked doing when I was a kid and since, I have never stopped.
Sandra Salazar: Drums tech, in tour, it's a full-time occupation, I suppose?
NICK RICH: Absolutely! We are on tour ten months per year. Two months on tour, two weeks on holidays and we go again... It's rather constant.
Sandra Salazar: You are a drummer originally. Animal, the drummer of the Muppet Show, is a big influence, for you?
NICK RICH: Absolutely! To say you the truth, I've even a marionette of Animal at home, which I had when I was eight years old! It's a collector.