Musicians : Dean Butterworth
And DEAN BUTTERWORTH at the drums.
He arrived in the band in september 1996 after have been in competition with two others percussionist. For him it's the fact that all the members of th band are so close which makes that the result is a so beautiful music...
He tried all styles of music : jazz, fusion, reggae, rock...
He communicates with david visually and through instruments in order to be in a perfect harmony.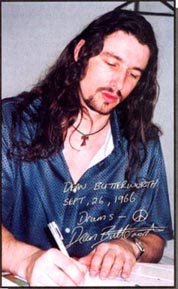 Here is the interview of Dean done in 2000 by Sandra Salazar for Guitar Collector's :
Sandra Salazar: How did you become an Innocent Criminal?
DEAN BUTTERWORTH: About five or six years ago, Ben and I, we met in a recording studio in Hollywood. We became friends. And then at the time of Fight For Your Mind, he asked me to come to play in studio with the band. I learnt some Ben's songs, I went to play in the studio and the next day he called back me.
In fact, Ben had chosen a drummer, JP (Plunier) an other one and Juan (Nelson) still an other one, there was three drummers for the audition and I has been chosen, in september 1996. We played together, that was right, and since, the evolution has been very good.
Sandra Salazar: How's that?
DEAN BUTTERWORTH: As friends and partners. The more you are close to somebody, capable of understanding him, of relying on him, the more it's transcent in the music. Juan, Dave, Ben and I, we are very close and you can feel that in our music.
Sandra Salazar: The previous drummer (Oliver Charles) was rather Reggae, are you rather Rock?
DEAN BUTTERWORTH: No, I come from Jazz and from Fusion, Reggae too. I hadn't played Rock'n'Roll for a long time. When I was at the secondary school, I found that's was not good to like the Rock: if you didn't play Jazz, you were not a good musician, because the Jazz, it's at once more technical. I was a drummer of Jazz very snob! And then I discovered The Police and Stewart Copeland, he blew out me literally. A little as the drummer of Jimi Hendrix, Mitch Mitchell, who brought too elements of Jazz to his Rock'n'Roll. But in the time, my references were Steve Gal, Chick Corea, Buddy Rich, Lenny White, all the drummers of Jazz Fusion, the list could be long.
Sandra Salazar: What pleasure do you remove from it?
DEAN BUTTERWORTH: It's more difficult to play less than to play more. It's necessary to be just rather than too much. You can always shout but the most importing it's to speak, to say things sensitively. It's what I try to learn. I behave as a sponge, I absorb the most musical styles that it's possible.
Sandra Salazar: You have a special type of relation with David (Leach), the percussionist?
DEAN BUTTERWORTH: We communicate visually on stage and through our instruments to avoid interferences, although sometimes, we play the same thing at the same time. We also like preserving certain bases in our collaboration but there is always a door opened to the improvisation. That often arrives and that allows to stay awake, don't get bored, musically speaking. A good thing too, it's that we have about fifty titles to play, we can change the set every evening and not sink into the rehearsal. Besides, David and I, we are very close friends, even the days of rest, we are always together.