Musicians : David Leach
DAVID LEACH at percussions.
It's because his friends have become better than him at the drums that he decided to play percussions. He has known some difficulties before to meet Ben, he played with everybody who accepted him!!
On scene he plays several percussions : congas, bongo, cerdu, berimbau...The berimbau is the instrument which we can hear on Less.
He perceives a spiritual dimension in the fact to play percussions because for him it's probably the first way of communication, which has existed!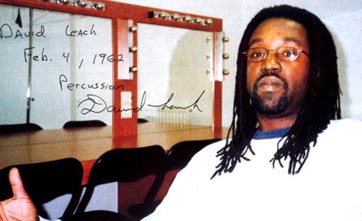 Here is the interview of David done in 2000 by Sandra Salazar for Guitar Collector's :
Sandra Salazar: How did you become an Innocent Criminal?
DAVID LEACH: I auditioned, simply. Dean (Butterworth) and Juan (Nelson) called me and indicated me the place of the audition. Ben was in France at this moment.
Sandra Salazar: What did Leon (Lewis Mobley) became?
DAVID LEACH: I don't know, I believe that he plays in a band. In fact, at the beginning, all that I knew of Ben Harper, it was Leon, he was a friend of mine. I met him in Los Angeles, by playing.
Sandra Salazar: What was your musical education?
DAVID LEACH: I grew up by listening to Jazz; Miles and more old things. Later, I listened to Funk and R'n'B.
When I began to play percussion, it was Ray Barretto and Tito Puente.
Sandra Salazar: Did you travelled to study percussion?
DAVID LEACH: I went to faculty to study the theory but I travelled especially through discs, by listening to the others players. By going to concerts also. In my mind, I tripped a lot too.
Sandra Salazar: What induced you to play percussion?
DAVID LEACH: I began with drums from the age of six or seven years but from the secondary school, my friends began to exceed me. I wanted to continue to play, I looked then for something else to which I could apply the spirit of drums. Most of the bands haven't two drummers but some have a drummer and a percussion player. I was able to use my drummer's capacities without being in competition with another drummers.
Sandra Salazar: With whom did you play before Ben Harper?
DAVID LEACH: With everyone who wanted of me! I come from New Jersey and when I arrived in Los Angeles - I was 22 years old - I knew nobody. I played with everybody, in jam sessions or with people that I met during parties. I played in Churches, in Disneyland, in a band called The Emotions, in studio... I tried to be known, while I learnt new music styles.
Sandra Salazar: What is your style of predilection?
DAVID LEACH: Today, it's the music of Portorico, Cuba and Brazil. The African music also, naturally, where from all these musics come. I listen to a lot and I learn. I listen to a lot of Jazz and a lot of Rock - since I'm in a band of Rock. It's necessary to understand how that works.
I like Pearl Jam now for example, but I would have never listened to them before. I like them not only because they are friends of mine but because their music contains many elements, such as Blues, Jazz, Funk, things which I listened to when I was young. But I have a preference for all which is "rice and beans".
Sandra Salazar: Rice and Beans?
DAVID LEACH: All which is highly spiced, which has this type of flavor. I stole this expression from Dave Valentine, a flutist, he made an album live with a Black Bird's cover which he describes as the original version "but with a little rices and beans". In other words, a Black Bird's Latin version.
Sandra Salazar: What are the percussion which you play in these shows?
DAVID LEACH: Congas, Bongo, Cerdu, Berimbau... I try to play Berimbau, it's the instrument which you hear to the intro of "Less". It's an idea of JP (Plunier). We came back from Brazil, I already had Berimbau at home but I absolutely wanted one from Brazil.
We were repeting songs for the album and JP suggested me to bring it. It was tuned in the same tone as the song. I believed that we were the only band to have integrated Berimbau into the Rock'n'Roll...
Sandra Salazar: .... And someone tell you to listen to Sepultura!
DAVID LEACH: Yes! Yes! Nick (Rich), who works with us, said to me "It's cool, but listen to that". It was cool, that makes a reference point for us and then it's Carlihnos Brown who plays with them! I saw him in Hollywood Bowl and it was a slap! I find very interesting that it's us who took their ideas to Sepultura. They were inspired by the american Rock'n'Roll and this time, are the Americans who are inspired by them.
Since this time, we had the occasion to play with them, in the same festival, in England. There was also Metallica and other groups of metal.
Sandra Salazar: How many years are you in the band, now?
DAVID LEACH: Three years. The two first years were difficult because it was necessary that I learn the old songs, what Leon played, what the others played: it was necessary to play in a way that respect guitars, drums, bass. It was difficult for the others too, it was necessary that they get used to me.
Sandra Salazar: What means to be an Innocent Criminal for you?
DAVID LEACH: That means that every evening I'm on stage, I should give myself to 110%. That's really a part of me: if Ben Harper makes a good show, people are going to say "Ben Harper was very good this evening", but if the band makes a mistake, people will say "Ben Harper made a mistake".
Some persons know who's David Leach, and there, you can listen to: "Ben Harper was good, well, but David Leach got it all wrong!" but it's rare.
My responsibility, it's to do what I have to do, because they consider me like a member of this group, I'm not just the guy who plays percussion over there at the back.
Sandra Salazar: Did you perceive a spiritual dimension in the fact of playing persussion?
DAVID LEACH: Absolutely! Completely! It's doubtless the first means of communication that existed and it's also the only intrument wich the sound can be extracted, naturally, without knowing how to play it. It isn't possible with a saxophone, a bass, a piano... With percussion, not means to play false. Quite as the rhythm is the most important thing of our lives: we breathe in rhythm, our hearts beat in rhythm, we speak in rhythm. All these elements can be applied to the practice of percussion, which will restore them in a spiritual and emotional way. If I play well, there will be a certain spirit, connection with the unconscious which is made -I don't say that I reach there every time- and I believe that people perceive that also.
Sandra Salazar: Did you went to Africa?
DAVID LEACH: No, not yet. It's doubtless the only place in the world where I really like to go. What scares me in the fact of going to Africa, it's that probably I won't come back. I believe that I shall stay over there a little, maybe that I shall go to Brazil and that I would stay there a little also. It would be a way to go at the source of this music, for me. That will be made, one day. I would like to go to Ghana or in western Africa.