Charles Chase
Charles Chase is the Ben Harper's grandfather. Ben is in fact one of the 10 grandchildren of Charles and Dorothy Chase. Charles Chase is the owner of the Folk Music Center, a music store located at Claremont, in the suburbs of Los Angeles. Rachelle Fittante, former student in La Jolla wrote a marvellous document on its life.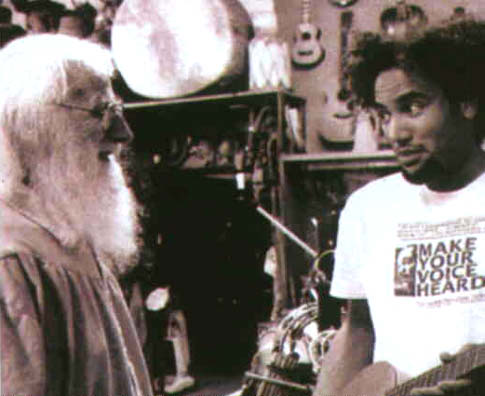 Charles and Ben
In virtually every town, there is someone or something that brings definition to the area, be it through culture or historical insight. Often this defining element is the epitome of life in the area it represents, and the lifeblood which connects the past to the present.Claremont, a city known for its bohemian qualities, has many of these elements, but as contested by those who know and love him, none are quite as fitting as Chase and his Folk Music Center. Just as brass has a memory, Chase has a complete cognizance of every event in his life, as well as in-depth knowledge of the history behind practically every instrument in the Folk Music Center, including their creation in correspondence with historical events. Timeless stories flow from his mouth like songs of the past, giving life to the history he illustrates with the tales of instruments that come from all over the world. Small-framed with longish, thinning white hair and a lengthy white beard, Chase is an apocalyptic mix between Jesus and Santa Claus. He walks with a slight limp. He speaks in soft, prophetic tones, characteristic of rural New Hampshire, where he is originally from, and his positive attitude and kindness illuminate his kindred spirit. He is both legend of his time and friend to Claremont Village.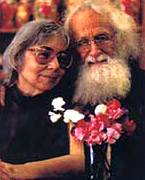 Charles and Dorothy

The Claremont Folk Music Center is located on Yale Avenue in the Village. From a glance, the Center looks like any other store in the Village - both naturalistic and avant garde. But once inside, the ambience takes over. Beautiful and rare instruments - from flutes and mandolins to tambourines and drums from Uganda - drape the walls and cover shelves stacked high to the ceiling of the building's interior. Often people visit the store to buy or sample instruments which are difficult to locate in the United States. In addition to instruments, the shop also has items that epitomize folk art, including jewelry, dolls, books, and statues. One of Chase's favorite instruments and "the only one I play," is the mouth bow, which descended from the east coast when England still had control over the colonies.Chase opened the Folk Music Center on August 12, 1958, in a room behind a real estate office on Harvard Avenue in Claremont. The Chases moved from across the street to the present shop on April 5, 1970 because they felt they needed their own building, though Chase says at first "we didn't have near enough instruments to fill the space." They bought the building for $28,000, and in a few years it "began to get a little crowded. "For a long time people donated instruments and used it as a tax write-off. That is how we get a lot of our instruments." He describes his decision to make it a museum. "When we applied to the state of California in 1982 to become an official museum, they wrote back and said we needed to get permission from the Folk Music Center to use their name. So we gave ourselves permission and made it an official museum," Chase says, laughing. There is also a workshop in the back where instruments are built from scratch and fixed. Chase does not play instruments, sing or read music and is "as deaf as a haddock." Nonetheless, he got his start in music in 1950, when he decided to fix a banjo for his wife himself, rather than paying $7. "I studied it and learned how to fix it and put the bridges on. My wife learned to play and teach," he says. "While she taught lessons, I took out ads to buy old banjos. I began restoring them, and she bought tapes, books and records to teach with. "The way she put it, we later opened a toy section in the store because we had so many grandchildren."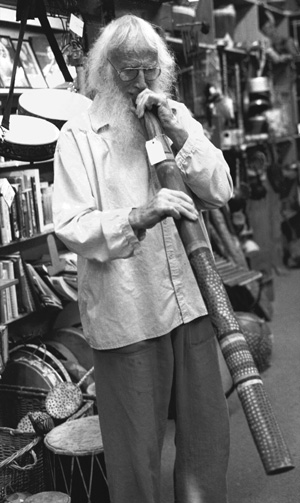 Charles playing didgeridoo at the Folk Music Center
In addition to discussing his family, another topic Chase talks a lot about poetry. It is, perhaps, his first passion. Outside the shop is the poetry post, a tall wood block where Chase posts poems he has written. He also invites anyone who wants to display their poems there to do so as well. More than 3,000 poems are stored in Chase's personal computer, but a majority of them he has published in small chat books that he has graphically laid out, printed up and put on display to be sold in the store.

I was likely to go to the Folk Music Center and I can say to you that this description is really in conformity with reality still now. From this place emerges really a particular atmosphere. One can take down constantly an instrument of the wall and to play it... Thus I was likely to play on Weissenborn Style 1...

The Folk Music Center today